Wed 31st August
7.30pm
Peter Feuchtwanger Memorial concert, Part 2
At the Baroque room, Elztalmuseum, Waldkirch.
Joseph Haydn, Adagio F Major Hob. XII/9 - Susanne von Laun
Franz Xaver Mozart, Andantino A Major FXWM:41 - Susanne von Laun
Joseph Haydn, Sauschneidercappriccio - Robert Bärwald
Peter Feuchtwanger, Variations - Lennart Speer
Franz Schubert, Walzes D779 No.1 (1823), Nr.2 Ländler D 366 Nr.3,4 - Agnes Joshi
Jean Sibelius, The Fir, Op.75 Nr.5 - Agnes Joshi
Peter Feuchtwanger, Tariqa No.2 - Christian Löschke
J.S. Bach, Andante from Piano Concerto in F minor BWV 1056 - Daniel Kasparian
Friedrich Kuhlau, Rondo C Major on Themes from Mozarts Don Giovanni - Daniel Kasparian
Peter Feuchtwanger, Study in the Eastern Idiom Op.3 (Macedonian and Bosnian)- Masako Kamikawa
Elisabeth Jaquet de La Guerre, Prelude-Allemande-Menuet-Gavotte aus der Suite A-Moll - Anna Roth
Felix Mendelssohn, Bartholdy Fantasia in F sharp minor Op.28 Con motto Agitato, Allegro con Moto, Presto - Manfred Seewann
Ina Birk, Soniyage - Ina Birk
Giacinto Scelsi, Rotativa - Marianne Schroeder
Frederik Chopin, Nocturne in C sharp minor, Op.post - Nina Attorf
Louis Moreau Gottschalk, La Gallina Op.53, Ojos Criollos, Dance Cubaine Op.37 - Stefan und Fedra Blido
Serge Bortkiewicz, Etüde Des-dur Op. 15, Nr. 8 - Klaus Cutik
Franz Liszt, Freudvoll und Leidvoll - Sophia Grech, mezzosoprano und Sanja Stefanovic
Benjamin Vanden Heuvel, From 4 Short Piano Pieces No.3,4 Dirge and American Suite, with mprovisation - Sanja Stefanovic
César Cui, Causerie - William Cuthbertson
Franz Liszt, Consolation No.3 in Des Dur - Jorrit van den Ham
L. M. Gottschalk, Souvenirs d Andalousie - Jorrit van den Ham
Franz Schubert, Polonaisen D599 No. 1,2 - Paul Cibis und Mayuko Vetter
Manuel de Falla, Fire Dance from The Love Spell - Achim Clemens
Shura Cherkassky, Prelude Pathétique - Achim Clemens
Ludwig van Beethoven, 6 Bagatellen Op.126, No.1,2,3 - Jean Jaques Dünki
Robert Schumann, Evening - Andrew Kraus
Adolph von Henselt, Wiegenlied - Andrew Kraus
Franz Schubert, arr. Leopold Godowsky, Wiegenlied - Andrew Kraus
David Saperton, Zephyr - Andrew Kraus
E.Granados - Andaluza and Allegro de Concerto - Emma Stratton
Tickets: 12€ / 10€(conc) / 9€(children)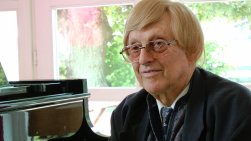 Wed August 31st
5.30pm
Peter Feuchtwanger Memorial concert, Part 1
To honour the legacy of the pianist, pedagogue and composer Peter Feuchtwanger, many of his former students will perform in two concert events.
Rossini Semiramide Overture, arr. Czerny, for 16 pianists on 8 pianos.
At
Pianohaus Lepthien
‪Schwarzwaldstraße 9A, 79117 Freiburg im Breisgau‬.Entry free. For all those who are interested in attending both events, there will be a direct bus transfer organised (from Freiburg to Waldkirch and back, for around 6€ each way). To book transport, please email:
feuchtwanger-memorial@email.de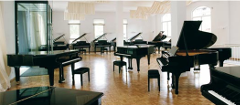 Sun 10th July
11am
Duo recital Piano and Violin
William Cuthbertson—piano, Carina Kaltenbach-Schonhardt-violin
L.van Beethoven, 1st mov, Sonata for violin und piano No.5 F major, Op.24
F.Schubert, Impromptu G flat major Op.90 No.3 (piano)
Cesar Franck, Sonata for violin and piano A major
Antonin Dvorak, Humoresque
William Cuthbertson,Butterfly Bounce No.1
Fritz Kreisler, Schön Rosmarin
Friedrich-Husemann Klinik
, Friedrich-Husemann-Weg 8, 79256 Buchenbach, Freiburg, Germany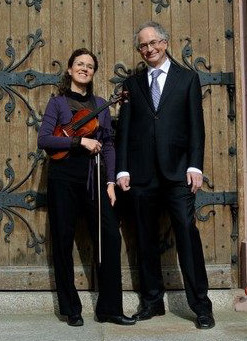 Sun July 3rd
11am
Concert at the Elztalmuseum, Waldkirch
L.van Beethoven Sonata E flat major Op.31 No.3
F.Chopin 3 Mazurkas Op.59
R.Schumann Études Symphoniques Op.13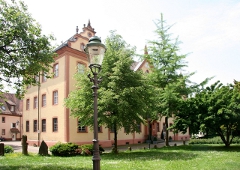 Wed 25th May
6pm
Concert In the Balakhna Museum of History and Art, Nizhny Novgorod, Russia
F.Chopin Sonata Nr.2 in B flat minor Op. 35
S.Rachmaninoff Polka de W.R.
F.Schubert Impromptu Ges-Dur Op.90 Nr.3, Impromptu B-Dur Op.142 Nr.3
A.Skrjabin Sonata No.2 Op.19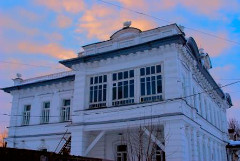 Sun 20th March
Concert, Stiftung Beatus, Sigriswil, Switzerland
A.Scriabin Sonata Nr.2 Op.19
S.Rachmaninoff Prelude in D major Op.23 No.4
F.Schubert Impromptu G flat major Op.90 No.3
F.Chopin Sonata Nr.2 in B flat minor Op. 35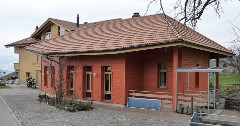 Fri 11th March
Kanderner Strasse 18, 79410 Badenweiler, Breisgau-Hochschwarzwald, Baden-Württemberg, Germany.
F.Schubert, Impromptu G flat major Op.90 No.3, Impromptu B flat major Op.142 No.3
A.Scrjabin, Sonata No.2 Op.19
F.Chopin, Sonata No.2 B flat minor Op.35