Thu 30th January
8pm
Eurythmy Hall Concert
C.Cui : "Causerie" (Piano)
Liu Zhuang : Romantisches Stück (Piano und Cello), Improvisation 1 (Piano und Cello)
W.Cuthbertson: Nocturne (Piano) + Walzes (Piano) +3 Short Pieces(Piano+Cello) +Improvisation 2 (Piano + Cello)
Xu Xiyi :Lullaby (Piano + Cello)
F.Chopin: Nocturne F Major  (Piano) Op.15 Nr.1+ Nocturne F# Major (Piano) Op.15 Nr.2
P.Tschaikowski : Rococo Variations (Piano + Cello) Op.33
Klinic lahnhohe
,Am Kurpark 1, 56112 Lahnstein, Germany. Entry Free
Sun 6th April
Trio Recital
With:
Margriet van Reisen, Mezzo-soprano
Antoine Billet, Cello
William Cuthbertson, Piano
Elztalmuseum, Waldkirch. Admission: €17 / €15 / Children €9
Joseph Glaeser - Four Songs
Dmitri Shostakovich - Song of Ophelia
Peter I. Tchaikovsky - Valse sentimental Only he who knows longing
Alexandr Dargomiskji - Ana Pridjot
Johannes Brahms - My love is green, down there in the valley, Och Modr, ich well n Ding hahn
Paul Graener - Three Songs A voice and cello music
Felix Mendelssohn - Songs without Words
Alphons Diepenbrock - Berceuse
Jules Massenet - Elegy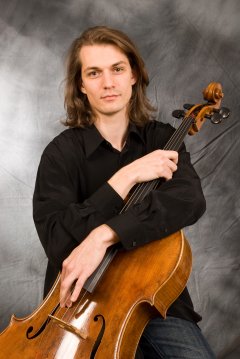 24th June
8pm
Live Music with William Cuthbertson and Carina Kaltenbach
A.Dvorak, Humoresque
P.Tchaikovski Sérénade melancolique
2 Bulgarian Folk Songs, champagne reception
Reisebüro am Markt/Fiore, Lange Straße 65,Waldkirch, Germany. Admission free, donations for the musicians are welcome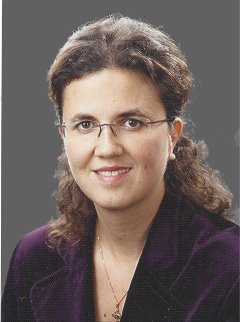 Tue 24th June
8pm
Waldkirch musicians sing and play music from Mozart to Bob Dylan. For victims of the fire disaster in Valparaiso with Wolfgang Brommer, William Cuthbertson, Stephan Ronkov, Frauke Hofmann, Carina Kaltenbach, Manuel Torres, Adrian Oswalt and Markus Trenkle.Stadtkapelle Waldkirch, Lange Strasse, Germany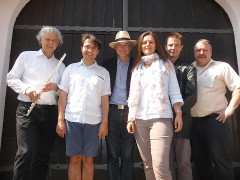 Sun 13th July
11am
Piano Recital with William Cuthbertson
L.van Beethoven, Sonate E-flat major Op.81a Les Adieux
F:Chopin, Berceuse D-flat major Op.57, Tarantella A-flat major Op.43
F.Liszt, Verdi Rigoletto Paraphrase
Glinka, arr. M.Balakirew The Lark
E.Granados, The Maiden and the Nightingale (Goyescas)
J.Brahms, Variations on a Theme of Paganini Op.35 Book 1
Elztalmuseum, Kirchplatz 14, Waldkirch, Germany. Entry:17€/15€ Children 9€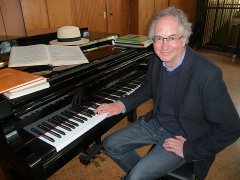 Sun 20th July
2pm
At Stadtrainsee, Waldkirch. The Orchestra will play dance music from the 1930s to the 60s.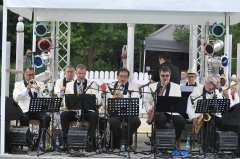 Mon 21st July
8pm
Zeltkultur, (the circus tent in the school yard), Elzach, Germany. Advance tickets: bookstore Merkle. Entry: 8/7€.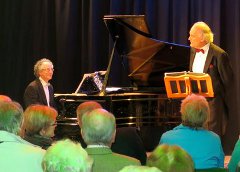 Mon 4th August
8.30pm
Informal Concert.
at
Islay Hotel
(Sponsor). Charlotte Street, Port Ellen, Isle of Islay, Scotland, PA42 7DF
Wed 6th August
12 noon
Informal Concert
at
Ardbeg Distillery
(Sponsor)
Port Ellen, Islay, Argyll, Scotland, PA42 7EA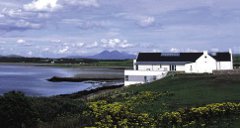 Fri 8th August
7.30pm
Concert with William Cuthbertson and Fiona Middleton (Fiona of the seals), Violin, Vocals
Works by Franck, Kreisler, Elgar, Fauré, Liszt, Cuthbertson and Middleton
Islay Gaelic Centre (Ionad Chaluim Chille Ìle), Bowmore,PA43 7LN, Islay, Scotland. Entry: £10
Thu 16th October
8pm
Poetry and Piano
"Time - eternity - Transience: A Journey" / Litera theater, Martin Lutz & William Cuthbertson Orgelbauersaal, Gewerbekanal 1, Waldkirch. Doors open 19:30 | Admission 10 €. A collage of texts to "time-eternity -Transience" paired with piano music by and with William Cuthbertson opens the listeners new spaces, also by connecting the recitations of the actor Martin Lutz. A voice and sound journey This performance is part of the Waldkirch Culture Week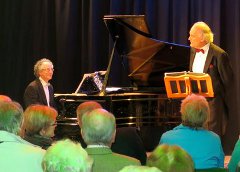 Sun 19th October
11am
Musical love time travel "Love through the Ages" with duo Frauke Hofmann (Mezzo-soprano), and William Cuthbertson (Grand Piano)
At Orgelbauersaal Gewerbekanal 1, Waldkirch. The mezzo-soprano Frauke Hofmann and the concert pianist William Cuthbertson provide the theme of love in the musical world over the centuries. Has this changed over time? The journey from the Renaissance to modern times will be presented, including songs, arias, and piano music by Dowland, Bizet, Rachmaninov, Weil and Yiddish Tango, illuminated by music, complemented by explanations, which demonstrates love.through the ages in a great program, including "Habanera" from Carmen and "Liebestraum" by Liszt. This performance is part of the Waldkirch Culture Week.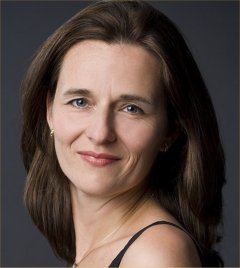 July
Concert
F.Schubert, Sonata in B flat major D 960
J. Brahms (1833-1897), 6 Piano Pieces.
Waldkirch, Baden-Württemberg, Germany